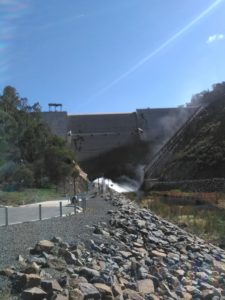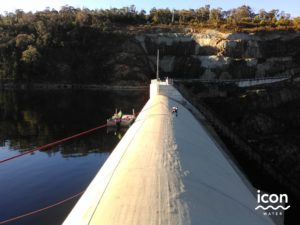 Ropepro were pleased to assist Brooks Marchant Pty Ltd and Icon Water with the replacement of a Tilt Sensor on the Cotter Dam Primary Spillway on the outskirts of Canberra recently. This project presented a number of unique challenges to overcome in order to carry out this task safely. 
The Tilt Sensor that required replacement was embedded in the Dam Wall's concrete structure and located in the middle of the Primary Spillway. There is currently no fall protection in place to safely access the middle of the spillway which posed fall risks both in to the Dam itself and down the Dam Wall. The use of Scaffold, Crane or EWP was either not possible or not practicable for the scenario and the development of a Rope Access method to carry out this work was decided to be the most effective and efficient method.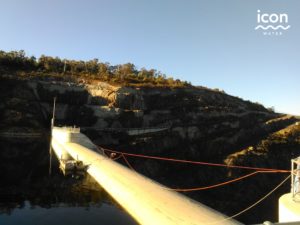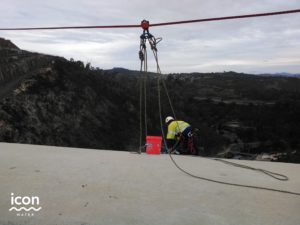 The sensor is also located over the crest of the Spillway at an angle making it difficult to maintain stable footing whilst carrying out work, particularly while carrying out removal of concrete. The safe retrieval of an injured worker is also a critical part of working at height, particularly whilst using a Rope system.
When considering all of these factors, Ropepro was able to develop a Rope System that allowed safe access from the Secondary Spillway to the Primary Spillway, access across the entire length of the spillway and access over the crest to the location of the sensor. The system that was implemented, in conjunction with a rescue barge, also allowed the efficient extraction of an injured worker if required.
This project was executed safely without incident and there was virtually no disruption to the assets operation.
If Ropepro can assist you with accessing, cleaning or maintenance of structures or assets under your responsibility, please don't hesitate to contact us