Ropepro High Access Services recently carried out the internal inspection and cleaning of a grease extraction riser shaft in Melbourne's CBD with our good friends at Total Ventilation Hygiene.
During this project, it was identified that there was no other safe form of access to carry out an initial inspection and subsequent cleaning to the inside of this Riser. The only other alternative to carrying out this work via Rope Access methods would have been to dismantle the duct work or cut numerous penetrations into the system resulting in significant costs and downtime to the clients operations.
Ropepro utilised Confined Space risk control methods which included the use of Atmospheric monitors and the Ferno "Arachnipod" to safely access the Riser Shaft. The utilisation of the Arachnipod created temporary Anchor points directly above the entry of shaft that could be utilised as a primary anchor point into the shaft as well as double as a hauling/lowering system in case the rescue of an injured operator was required.
Although this work can be a challenge to carry out it is all part of the job when it comes to providing Rope access solutions. It is also imperative that Building Managers understand the condition of their assets as well as the importance of regular maintenance programs to ensure the safety of their staff and the public and to maintain compliance with Regulatory requirements.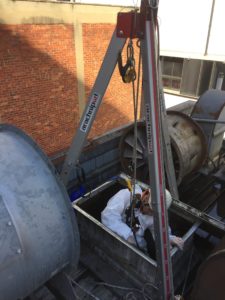 If you would like to know more about Building or Structure inspection and maintenance, please contact us