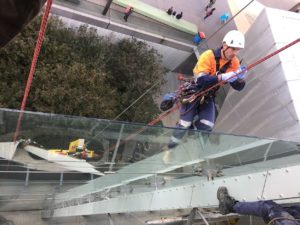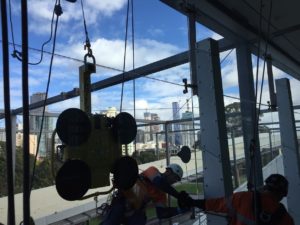 Ropepro were pleased to assist Museums Victoria recently with the replacement of a glass panel on the main entrance glass curtain wall. Due to the weight and location of the affected glass panel the options for lifting the panel and fixing the panel in place were limited.
The Glass Panel dimensions were 1470mm high x 2790mm wide and 12mm thick weighing 123 kgs. The panel was also located under an awning which also added a layer of complexity to the works
The area below where the glass panel was to be lifted is an underground car park and the weight of a Crane or Elevating Work Platform that would be required to lift the panel in to place would exceed the maximum floor rating.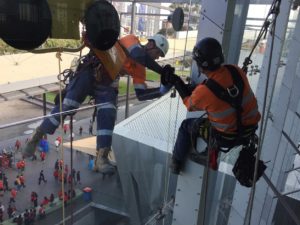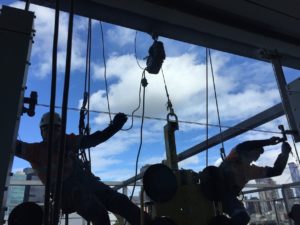 The use of Scaffold was also not practicable or cost effective due to the location of Museum exhibits which could not be removed and the requirement that Scaffold would need to be erected both externally and internally to lift, install and seal the glass panel.
Ropepro was able to utilise Rope Access and Rigging Techniques in conjunction with a Minifor electric winch and electric glass lifting system to safely install the panel.
This project was carried out on time and safely without damage to customer property, museum exhibits or disruption to the Museums hours of operation. A job well done by all involved!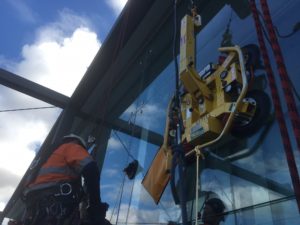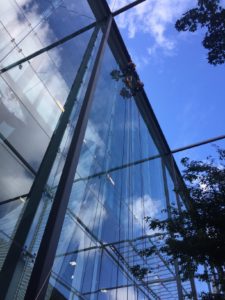 If Ropepro can assist you with accessing, cleaning or maintenance of structures or assets under your responsibility, please don't hesitate to contact us