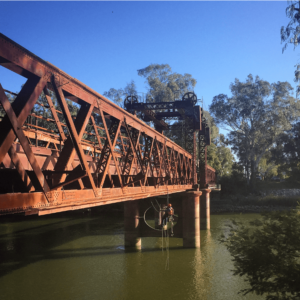 Ropepro is currently assisting the team at Nutall Engineering with engineering inspections of Rail Bridges and Viaducts across Victoria and NSW.
There are a number of reasons why the use of Rope Access methods (as opposed to traditional forms of access such as scaffold or Elevating Work Platform) are required to carry out visual and tactile inspection of structures such as Rail Bridges and Viaducts.
Often there is a water body below the structure making it impossible to use Scaffold or EWP. Due to the structures being active rail lines there is a requirement that equipment can be mobilised and de-mobilised in a timely and efficient manner in order to comply with OH&S and timetabling requirements.
It can also be extremely expensive and time consuming to erect and dismantle scaffold or the mobilise large and expensive EWP or Cranes resulting in cost blow outs and disruption to operations.
Industrial Rope Access methods offer a safe, efficient, innovative and cost effective solution to many access challenges.
If Ropepro can assist you with accessing, cleaning or maintenance of structures or assets under your responsibility, please don't hesitate to contact us