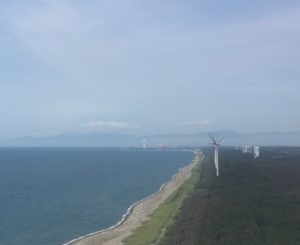 Ropepro were pleased to assist Senvion during their recent project at Noshiro Wind Farm in Akita Prefecture, Japan. Ropepro were engaged to provide Supervision during recent Rotor Blade repairs.
Adequate Supervision of Rope Access works is critical to a project's success. Work site's that require Rope Access are inherently hazardous and dynamic. Often sites contain hazards that are not easily identifiable or easily managed, rescue capability is also a major consideration when not only carrying out Rope Access work but work at height in general.
An effective Supervisor of a Rope Access team is suitably qualified (Level 3 Industrial Rope Access), has broad experience, is able to identify and mitigate hazards, displays strong leadership skills and is an effective communicator with team members and customers.
It is important that Mangers of sites where work at height is being carried out are diligent in their management of contractors to ensure hazardous work is being carried out under adequate and competent supervision.
As always, we look forward to working with Senvion again and thank you to the Senvion crew: David, Christian and Ryan and well done to Stu Lakeland for a job well done!
If Ropepro can assist you with accessing, cleaning or maintenance of structures or assets under your responsibility, please don't hesitate to contact us