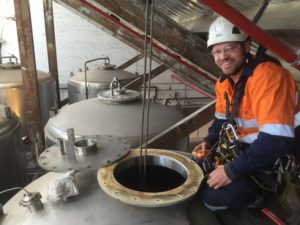 Ropepro assisted Mentor HR and Little Creatures during a recent shut down period to safely access vessels and confined spaces at their Geelong Brewery site.
Maintenance within vessels was required during this shutdown and as such rescue capability was required.
When work is conducted in any hazardous environment, particularly working at height or in confined spaces, the capability to  safely and efficiently rescue an injured worker is something that must be considered by personnel responsible for planning these works.
In order to carry out a rescue of an injured worker, consideration should be given to the following:
Location of the work area
Communication
Rescue Equipment
Capability of rescuers
First Aid
Local Emergency Services if they are to be relied on for rescue.
Ropepro High Access Services provides Rescue/Stand by technicians to our clients utilising highly trained and experienced personnel during Shut-downs or on going maintenance tasks. Ropepro has the capability to provide technicians to supervise and manage compliance in projects involving Confined Space Entry, Working at Height as well as preparing and implementing Rescue Plans And performing high level First Aid.
To learn more about our Stand by rescue capabilities or if this is a requirement at your work site please contact us