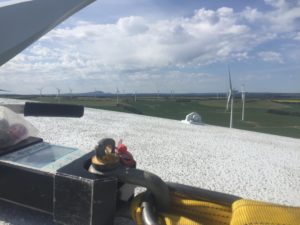 Ropepro were pleased to once again assist Meridian Energy and Senvion Australia with the inspection and testing of Anchor points across the Mt Mercer, Chepstowe and Hepburn Wind Farms in Victoria as well as the Mt Millar Wind Farm in South Australia recently.
To ensure the safety of personnel who work at height, height safety equipment such as safety harnesses, horizontal life lines and rails, fall-arrest devices, and associated lanyards, connectors, anchorages and fittings must be inspected regularly by competent height safety equipment inspectors. This is to ensure they are safe for use and compliant with the manufacturers specifications as well as the specifications set out in the Australian Standards. The Australian Standards that may be relevant to this type of equipment may be:
AS1891AS/NZS 1891.4:2009 Industrial fall-arrest systems and devices – Selection, use and maintenance
AS4488:1997 Parts 1 & 2 Industrial Rope Access Systems
AS 1657-2013 Fixed platforms, walkways, stairways and ladders – Design, construction and installation
Due to the nature and construction of Wind Turbines, in order to carry out inspection and maintenance of the structure's elements both internally and externally it is common that maintenance personnel are exposed to a fall hazard. In order to control the risk of a fall from height, Wind Turbines have Anchor Points and Height Safety systems within the Turbine Towers as well as internally and externally on the Nacelle and Hub/Spinner.
These systems in conjunction with regular working at heights and rescue training of maintenance staff allow safe access to most areas of the Wind Turbine by service technicians in order for them to carry out maintenance. Areas that are more difficult to access such as; Rotor Blades, some areas of Tower surfaces and some areas of the Nacelle and Hub, are able to be accessed using Rope Access Techniques, Elevating Work Platform or Crane and Man box.
If Ropepro can assist you with the inspection of assets or infrastructure such as Wind Turbines or Height Safety Systems, please call 03 93917159 or email info@ropepro.com.au
If Ropepro can assist you with accessing, cleaning or maintenance of structures or assets under your responsibility, please don't hesitate to contact us