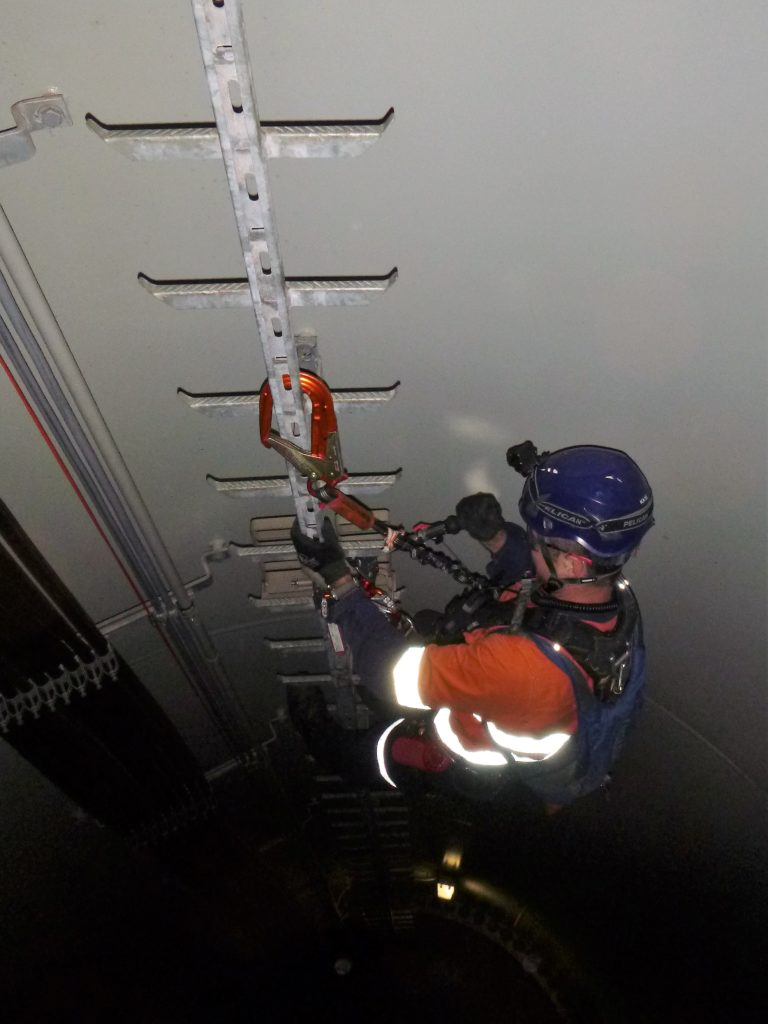 Ropepro recently assisted Meridian Energy Australia in annual inspection and routine maintenance of access Ladders within a number of their Wind Turbine Towers in South Australia.
Although most modern Wind Turbines now have lifts within them to allow easy access to platforms within the towers and all the way to the Nacelle, they are still required to have access ladders in case of emergency lift breakdown or access to internal tower sections between platforms.
The access Ladders commonly found within Wind Turbine Towers are typically "Single-Stile" or "Twin-Stile" Rung Type Ladders that are installed in conjunction with an in built vertical Fall Arrest system. This system allows the climber to freely climb up or down the Ladder and "Lock off" if the user were to lose their grip or slip from the Ladder arresting their fall.
According to AS 1657-2013 Fixed platforms, walkways, stairways and ladders – Design, construction and installation, the maximum height a rung type Ladder can be is 3.5m, beyond which a Fall Protection system must by installed which, in turn, must comply with AS/NZS 1891.4:2009 Industrial fall-arrest systems and devices – Selection, use and maintenance.
Annual inspection and maintenance of access Ladders and the fall protection systems that accompany them are not only a legal requirement but they are also critical to safe use and operation of the equipment. By carrying out regular inspection and maintenance in accordance with the manufacturers specifications and the applicable standards, any defects can be identified and corrective actions can be implemented in a timely manner to ensure the integrity of the equipment.
Regular inspection is also valuable as any relatively minor defects can be noted and monitored over time to observe any advancement of the defect to an unacceptable condition.